EVONIK BEGINS CONSTRUCTION ON $220 MILLION LAFAYETTE LIPID INNOVATION CENTER 
By Shelby White 
Members of Greater Lafayette Commerce's leadership team joined Gov. Eric Holcomb and other dignitaries on the sprawling campus of Evonik's Tippecanoe County Laboratories for a groundbreaking heard and seen not only in Greater Lafayette, but around the world.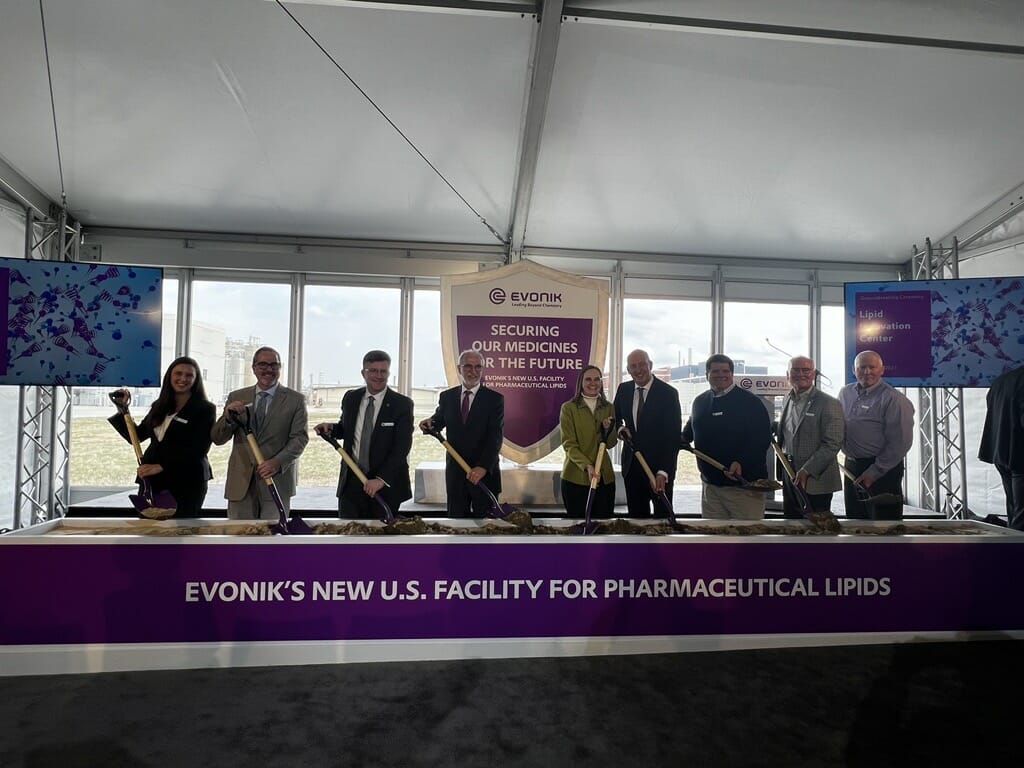 Guests and representatives from the media packed into a massive white tent positioned on the future site of a $220 million global-scale production facility for specialty lipids, which play a key role in the development of vaccines, such as the Covid-19 vaccine developed by Moderna. 
The wind howled as Evonik's senior management team broke ground on the new lab. The facility represents the largest investment in the Town of Shadeland's history. It also continues the growth of Greater Lafayette's economy, as world-class manufacturers like Evonik expand, and new manufacturers announce their plans to move to the region. 
Greater Lafayette Commerce played an important role in bringing the project to fruition, connecting Evonik with the cities of Lafayette and West Lafayette, Tippecanoe County, the Purdue Research Foundation, and the Town of Shadeland. Collectively, they provided significant tax abatements and job training grants which were part of the incentive package supporting the deal. 
The German-based pharmaceutical company has been a member of Greater Lafayette Commerce since it purchased the Tippecanoe Labs from Eli Lilly in 2010. Evonik is a member of Greater Lafayette Commerce's President's Circle, which is a group of civic-minded business leaders who are invested in making Greater Lafayette a vibrant hub of progress. 
The company is also a major employer in Tippecanoe County, Evonik Tippecanoe Laboratories currently employs about 650 people. The new facility will create 80 new, high-paying jobs in the Greater Lafayette region. Additionally, nearly 300 contractor positions will be added throughout the duration of the construction project.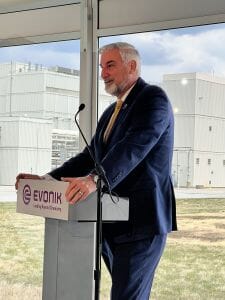 "Evonik's decision to build this new facility, and add 80 high-paying jobs, in Indiana is reflective of our state's highly trained workforce and the business-friendly environment we have worked to create," said Gov. Eric Holcomb. 
The move also expands Greater Lafayette's significance in the pharmaceutical manufacturing industry. Evonik Tippecanoe Laboratories is one of the world's biggest contract manufacturing facilities for active pharmaceutical ingredients and Evonik's second-largest site in the U.S. 
The new facility will allow for the rapid scale-up and manufacturing of a variety of specialty lipids to serve future applications of RNA technology in infectious disease control, cancer immunotherapy, protein replacement and gene therapy. 
"Our new Lipid Innovation Center will secure the health innovations of tomorrow. Through this investment, we reinforce our leading position in the pharmaceutical industry," said Christian Kullmann, CEO of Evonik. "We are privileged to support the U.S. with pandemic preparedness and enable the development of cutting-edge medicines." 
"This new world-scale facility will enhance Evonik's unique position as a CDMO (contract development and manufacturing organization) in the pharmaceutical industry," said Johann-Caspar Gammelin, president of the Nutrition & Care division at Evonik. "Be it development quantities or large scale, be it formulation or fill-finish – our partners in the RNA drug space can rely on us along the entire process." 
Construction on the new facility is projected to wrap up by 2025, with production beginning that same year.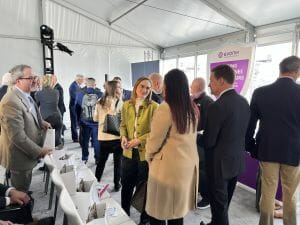 Representatives from Greater Lafayette Commerce, including Scott Walker, president and CEO; Michelle Brantley, vice president of marketing and communications; and Paul Moses, vice president of economic development, attended the March 29 groundbreaking ceremony. They joined representatives of the federal government, Gov. Eric Holcomb, Shadeland Town Council members, mayors John Dennis and Tony Roswarski, who joined Evonik's CEO Christian Kullmann and members of the company's management and supervisory board. Tippecanoe County Commissioners were also in attendance.  
Read more about Evonik in the Greater Lafayette Magazine: EVONIK - Greater Lafayette, Indiana (greaterlafayetteind.com)
Shelby White serves as Greater Lafayette Commerce's content marketing specialist.