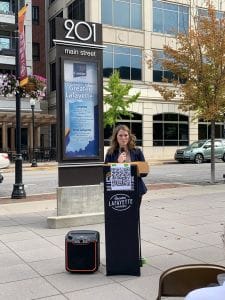 Cereset marks grand opening of Lafayette location
Cereset recently celebrated its grand opening with a Greater Lafayette Commerce-powered ribbon cutting ceremony.
Located at 201 Main Street in downtown Lafayette, Cereset can help mitigate issues related to aging, insomnia, sleep apnea, chronic stress, PTSD, anxiety, depression and more.
Short for "cerebral reset," Cereset detects brain rhythms and plays them back in real time, using special sounds or tones which enable the brain to naturally re-balance itself.
Watch: Grand Opening - Panda Express
Milestone events include ground breakings, grand openings and anniversary celebrations of 5 years or more. We typically hold Milestone events on Tuesdays and Thursdays each month at 10:30 am and 1:30 pm.