GRAND OPENING: VINTAGE VAULT
Vintage Vault celebrates grand opening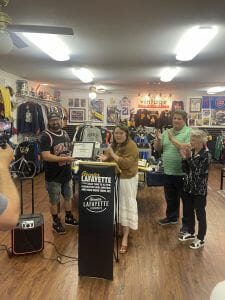 Vintage Vault recently celebrated its grand opening with a GLC-powered ribbon-cutting ceremony.
Located at 525 Wabash Avenue in Lafayette, Vintage Vault is Greater Lafayette's newest vintage and retro apparel shop.
"I want to thank everyone that has been a part of this. I had this dream 60 days ago. One reason why we did it is one thing that we all have in common is, we all have a childhood. If you look around, a lot of the things up on the shelves and the posters are from my childhood," said Jordan Taylor, owner of Vintage Vault
Customers can purchase used gently clothing, shoes, hats, accessories and more at the store, which is open Tuesday through Sunday.
"I'm delighted to be here," said Indiana State Representative, Sheila Klinker. "This is really incredible, and I know all the young people in our community will love this."
Added City of Lafayette Mayor, Tony Roswarski: "On behalf of the City of Lafayette, we want to congratulate you. There's a lot of cool memorabilia. We appreciate your investment in the community. We wish you great success."
Additional details may be found at vintagevault765.com.
Watch: Grand Opening - Vintage Vault
Milestone events include ground breakings, grand openings and anniversary celebrations of 5 years or more. We typically hold Milestone events on Tuesdays and Thursdays each month at 10:30 am and 1:30 pm.