THE PURDUE FARMERS' MARKET RETURNS WITH A BANG
By Novia Chiang
In the middle of a hot summer's week, the sweet caress of a cool morning is more than welcome. The air is alive with the sounds of people roaming the sidewalk paths and chatting with vendors at the Purdue Farmers' Market, which returned last month.
Each stand is unique and filled with a variety of anything from mouth-watering baked goods to beautiful, budding plants, fresh produce and crafts.
From above come the sounds of birds and towering trees that spread their branches to offer shade. Relaxing vibrations emit from a nearby tent as people enjoy a fresh meal from the plethora of delicious options that surround them.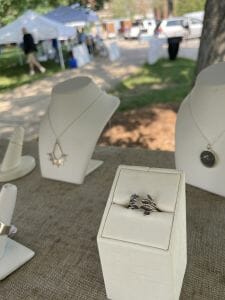 Kama Darr, owner of The Vintage Key, which offers artisan-crafted jewelry, said that it has been a great start to the year so far. Darr has been participating as a vendor in the downtown Lafayette Farmer's Market for 17 years. This is her second year at the Purdue Market.
"The people that work at Purdue, I think they love it. They love to come down, see what everyone has, eat and shop," said Darr.
It's a hit with students, faculty and their families alike, offering relief from demanding hours of work.
Caitlyn Dunlap is a Purdue chemistry graduate student who has been coming to both the Purdue and Lafayette markets since last August. Dunlap says she enjoys purchasing her produce from the market as opposed to grocery chains, noting that the market offers better prices than grocery chains.
Plus, she loves the environment that the market offers.
"Grad students like me, we sort of just sit out here and eat lunch, and it's sort of just a nice break from sitting in the lab all day," added Dunlap. "I really just like the environment, the community – stuff like that."
The market extends beyond offering produce and food – it also creates a relaxing atmosphere where people can focus on their mental health.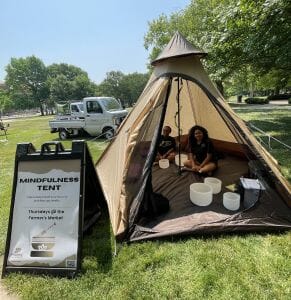 Vanessa Pacheco is the assistant director for wellness programs at RecWell, an arm of the France A. Cordova Recreational Center at Purdue. Her department's goal is to get people connected to each other and themselves. She believes the farmer's market creates opportunities for people to slow down.
"I feel like that's what the farmer's market is really all about is giving ourselves time to remember that we're working people, we're studying, and also, like, we're people. And that can certainly enhance your sense of well-being," said Pacheco, whose passion for mental health is palpable.
Pacheco and her colleagues set up a "mindfulness tent", where people can experience activities that vary weekly. One activity they offer is sound bowels, which create vibrations when they're paired with a gong. They are often used alongside meditation to enhance feelings of healing and relaxation.
The mindfulness tent will be at the market every other Thursday for the rest of the season, offering other activities like guided meditation, one-on-one coaching and hammocking. The best part? Their services are free!
"We're really excited to make some noise, but also create a situation that helps folks feel relaxed while they're here – even more relaxed than they already are in this place," said Pacheco.
The Purdue Farmers' Market is open to the public every Thursday from 11 a.m. to 3 p.m. at Memorial Mall on Purdue's West Lafayette campus. The market, which runs from May through October, is organized by Greater Lafayette Commerce and Purdue University.
Greater Lafayette Commerce hosts another farmers market in downtown Lafayette. For additional details, please visit lafayettefarmersmarket.com.
Novia Chiang is a sophomore at West Lafayette Jr./Sr. High School.  She is completing a spring marketing intensive with Greater Lafayette Commerce.