GREATER LAFAYETTE MAKES WAVES IN NATIONAL HEADLINES
It's no secret that Greater Lafayette is an amazing place to live – just ask any local.
Our community has been in the national spotlight again and again, earning top marks when it comes to the real estate market and remote work. We're proud of the attention and the work we're doing to put Greater Lafayette on the map and attribute the great PR to our strong regional leadership and business community.
Here's an overview of a few of the headlines:
Number one in the real estate market
The Lafayette-West Lafayette metro area ranked first out of the top 300 U.S. housing markets in the first and second quarters of 2023, according to the latest Emerging Housing Markets Index by the Wall Street Journal and Realtor.com.
This achievement underscores our area's steady real estate indicators, appealing lifestyle amenities, attractive cost of living and of course, our thriving local economy.
Beyond that, the WSJ found the area's real-estate taxes, unemployment, commute times and small-business loans appealing.
Pair this with the region's proximity to Indianapolis and Chicago, along with Purdue University and big-name manufacturing employers, which position Greater Lafayette as a destination for families and individuals considering making this community their home.
For reference, the median home-sale price in Tippecanoe County was $243,000 in December 2022, up 13 percent from the same time in 2021, according to the Indiana Association of Realtors. However, it was still more than $100,000 below the national median existing-home sales price of $366,900 in December 2022.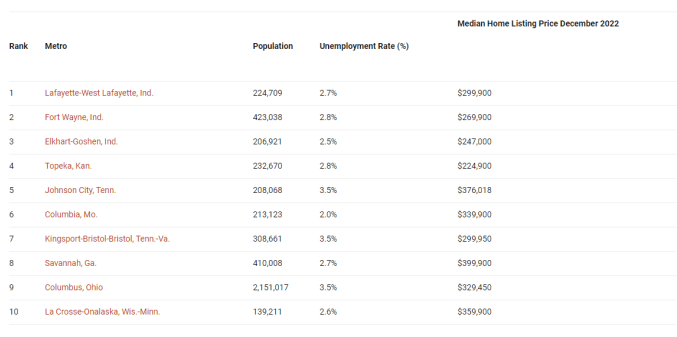 A great place to work from home

The Wall Street Journal also listed the Lafayette-West Lafayette metro area as the fifth-best place for remote workers in the U.S.
Factors taken into consideration include the percentage of households with access to 100mbps internet; average price for high-speed internet; price and size of houses; lower cost of living; unemployment rate; proximity to airport and other amenities.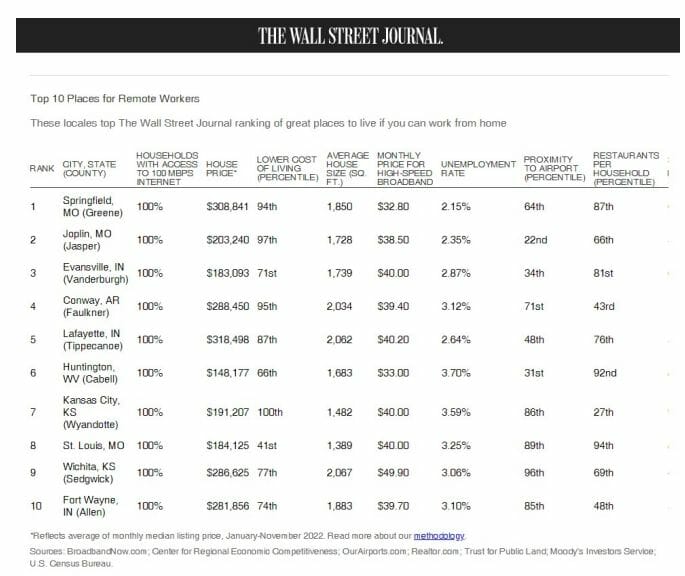 One attraction for remote workers was launched in April 2022 when Purdue University invited remote workers to move to the Greater Lafayette area.
The invite came with plenty of perks including: a Purdue ID card, permitting access to campus libraries and free rides on City Bus; free membership to care.com; a 50 percent discount to the Convergence co-working space on campus and a discounted membership to Parkwest Fitness. The program came to a close in February after seeing a large uptick in applicants.
You can read about our community accolades here: greaterlafayetteind.com/accolades
Poke around and you'll find that we won Community of the Year in 2021.
We're also ranked best places for:
Career opportunities
To work in manufacturing
For making a living
To retire
For business and careers
There's a lot more, but don't take our word for it -- read it yourself!