APRIL 2023 SMALL BUSINESS OF THE MONTH: PREMIER DETAILING & WASH
Premier Detailing and Wash delivers joy with each clean car
Donte Wilburn never envisioned himself as a business owner. Rather, he saw himself climbing the ladder in corporate America.
But a business owner is exactly what he became. Turns out, he has a penchant for it.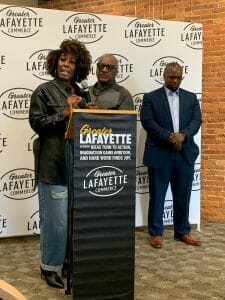 Now the owner of several successful businesses, Wilburn's company, Premier Detailing and Wash, was named Greater Lafayette Commerce's Small Business of the Month for April 2023.
Each month, the honor is given to a Greater Lafayette small business with 50 or fewer employees. The winning business excels in more areas than one – pride in their business and top-notch customer service, to name a few.
"Congratulations to our Small Business of the Month winner, Premier Detailing and Wash. They are a great small business in our community and a great recipient of this award," said Scott Walker, president and CEO of Greater Lafayette Commerce.
Based in Lafayette with a location in Kokomo, Premier cleans, styles and protects the interior and exterior of all types of cars, trucks, SUVs and more. The team also offers window tinting services as well as vehicle accessories, such as remote start features.
And its service makes Premier a formidable opponent to its competitors. The team performs a 20-point inspection on every car it services and even has the inspector review the inspection with their customer.
"That's amazing because the detailer that did the car gets to meet the person that they serve, and then the customer actually gets to meet the person that did all of this extensive work on their vehicle," said Donte.
Creating opportunities
Wilburn got his start in car-washing and detailing at a young age, but he wasn't particularly fond of the industry because there was little upward mobility.
"There was nowhere for me to move up to to become a manager, then become a manager over multiple locations, then become a district or regional manager. I just didn't see a pathway of success."
That's when he decided that if he didn't like the industry, he would change it. So, he started working harder, eventually becoming a manager and then operator before finally taking over as owner of Premier in 2008.
"Clearly you can see with Donte his entrepreneurial spirit, faith, family and his leadership abilities. They shine right through him," said Kevin Klinker, a member of the Lafayette City Council. "I'm glad you made the decision to go into business for yourself because I've used your service several times, and it's really good."
Now Wilburn creates opportunities for his employees.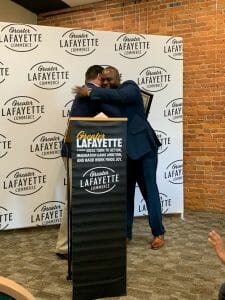 "My favorite thing is creating opportunity. That's where my passion for continuous improvement and buying more and more businesses came from – wanting to create more opportunities for more people. That's my heart and joy."
Wilburn's goal is to open 50 stores so he can create the opportunity he yearned for earlier in his career.
"Donte was kind enough to share his whole story with me and what a tremendous story it is. It just shows that faith and family and a community that will wrap around you, how much really can be accomplished. And then to have that ability to give back. That's really the foundation of what makes a community strong," said Tony Roswarski, Mayor of the City of Lafayette. "Donte you've been a wonderful example of that. We're really proud of you being from Lafayette and the work that you've done here. You mean a lot to the community."
Community involvement
Involved in the community, Premier, in partnership with local organizations, hosts a yearly Christmas giveaway.
Wilburn also serves on the boards of various organizations in the Greater Lafayette Community.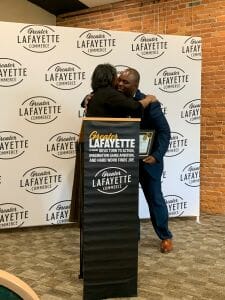 "I know Donte's business. I know his people. I know where he came from. More importantly, I know what he stands for," said Sana Booker, City Clerk of West Lafayette. "It's important that in the business world you learn what it means to give as much as you receive. And he learned that watching people in front of him."
An author, Wilburn's book "Born Hungry, You Were Made For More," drops May 2. It details his personal and business successes for young people.
Location and contact information
Location: 817 S. Earl Ave. Lafayette
Phone: (765) 446-1400
For more information, please visit premierdetailingandwash.com
Watch: Small Business of the Month Award Ceremony
The Small Business of the Month Award Ceremony is typically held the last Wednesday of every month.
The Small Business of the Month Program (SBOM) is designed to recognize the dedication, innovation and entrepreneurial spirit displayed by Greater Lafayette Small Businesses. The goal of the monthly award is to highlight a small business and give them extra marketing exposure to aid in growing their business.
The program is sponsored by Old National.