GRAND OPENING: LOVE'S TRAVEL STOPS
Love's Travel Stops commemorates grand opening  
Love's recently celebrated the grand opening of its new Lafayette travel stop with a Greater Lafayette Commerce-powered ribbon-cutting ceremony. 
Located at 2400 East 200 North in Lafayette, the new travel center boasts over 13,000 square feet, a Hardee's and a Speedco.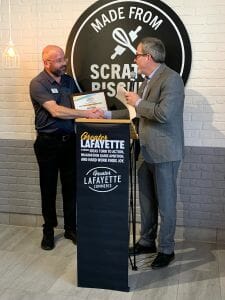 "This is a great development. It's already busy and packed, so you know it was needed by the market. We're really excited about the company making this investment in Tippecanoe County," said Scott Walker, president and CEO of Greater Lafayette Commerce. 
This is the 27th location in the state of Indiana. 
"It took a long time to get into Lafayette, and we're super excited to finally be here. And we're super excited for the community, to be able to provide you with the services you need to get back onto the road," said Toby Arndt, manager of Lafayette's Love's location.  
In honor of the grand opening, Love's donated $2,000 to Heartford House Child Advocacy Center. 
"I want to welcome you to the Lafayette area. Thank you on behalf of Lafayette for investing in our community," said Eileen Hession Weis, a member of the Lafayette City Council. "We're very proud of our community, so we're happy that you're. We know that this is just the beginning of a long relationship we will have with you here in Lafayette."  
For additional information, please visit loves.com. 
Watch: Grand Opening - Love's Travel Stops
Milestone events include ground breakings, grand openings and anniversary celebrations of 5 years or more. We typically hold Milestone events on Tuesdays and Thursdays each month at 10:30 am and 1:30 pm.