GRAND OPENING: FLYING HIGH TEA
Flying High Tea marks grand opening in downtown Lafayette
Flying High Tea celebrated its grand opening in downtown Lafayette with a ribbon-cutting ceremony powered by Greater Lafayette Commerce.
Located at 800 Main Street, the new shop is Lafayette's premier tea room offering an extensive tea list, brunch and high tea.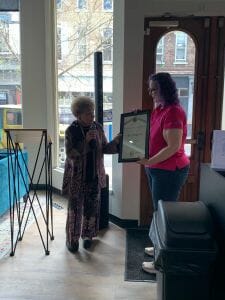 "We just appreciate what you have done with this space in downtown Lafayette. It is a stunning place to come and relax," said Indiana State Representative, Sheila Klinker.
Added Lafayette City Councilman, Steve Snyder: "This is a great addition to downtown. We look forward to many years of success, and we want to thank you, Twila and Woody, for investing in downtown Lafayette."
Husband and wife duo Twila Ortiz and Woody Moody own the new shop, which opened in February.
"We absolutely love this part of Indiana and especially this part of Lafayette," said Ortiz. "The downtown area is spectacular. We love the architecture; we're so excited to be in one of the lovely buildings. And we are so fortunate to have wonderful neighbors."
To learn more, or to make a reservation for high tea, please visit flyinghightea.com.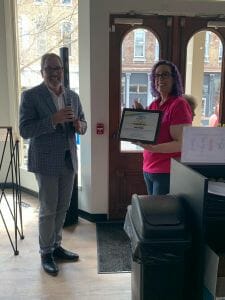 Watch: Grand Opening - Flying High Tea
Milestone events include ground breakings, grand openings and anniversary celebrations of 5 years or more. We typically hold Milestone events on Tuesdays and Thursdays each month at 10:30 am and 1:30 pm.