JANUARY 2023 SMALL BUSINESS OF THE MONTH: BLUE FOX HEATING & COOLING
Blue Fox Heating & Cooling lauded for quality service, monthly nonprofit donation program 
Greater Lafayette residents may be familiar with Blue Fox Heating & Cooling for its philanthropic efforts and excellent customer service – two of a slew of reasons why it was recently named the January Small Business of the Month by Greater Lafayette Commerce.  
The HVAC business's popular non-profit of the month donation program regularly garners positive attention from local media organizations and the public alike. And its customers rave on online platforms such as Yelp, Next Door and Home Advisor about just how happy they are with the service they received from Blue Fox, something business owners can attest is no easy achievement. 
Formed in May 2018 by J.D. Disher, Jared Manny and Cody Slate, the company was built on three principles: honesty, integrity and quality, explained Lisa Biernacki, the company's office manager.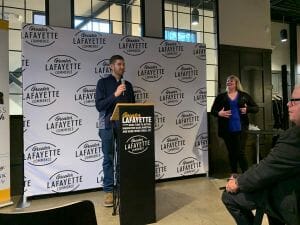 "The owners are young men that are all from the Greater Lafayette Area, who have families and friends here," Biernacki said. "We all truly believe that if you're good to the community, the community will be good to you."  
Based in West Lafayette, Blue Fox opened two new locations in April 2022 – one in Delphi and the other in Lebanon, a move designed to expand its reach in the region while reducing drive times for its technicians. The business, which has about 40 employees, also serves the Battle Ground, Brookston, Mulberry and Rossville areas. 
In addition to its charitable initiatives, Blue Fox separates itself from its competitors by providing only the services its customers need – nothing more, nothing less, said Biernacki. 
As such, the company will never sell its customers anything they do not need. 
"We just truly believe in being honest," said Biernacki, adding that customer education makes them stand out. "We like to educate our customers because nobody wants to spend money for us to replace a dirty filter." 
To that end, when a customer calls with an HVAC issue, Biernacki will not immediately send a technician to check the system. First, she will ask them a few basic questions, such as when they last had maintenance performed on their system and whether they need to replace their filter. 
"You'd be surprised at how many times I was able to get their unit turned back on just by that," said Biernacki.  
Stellar services 
Blue Fox provides repairs, installations and replacements of residential, commercial and industrial heating and cooling systems. But, Biernacki noted, it doesn't position itself as a part of the heating and cooling industry.  
"We're in the customer service industry," Biernacki remarked. 
One example of Blue Fox's exceptional customer service involves a woman who had just purchased a new window air conditioner. She called requesting help installing the unit – something people typically do on their own.  
"I went over there and just put it in for her," explained Biernacki. "We do stuff like that all the time. We just want to take care of people." 
The family-owned and operated company's technicians service all HVAC makes and models, including geothermal systems. They are also specialized to handle water heater maintenance and repairs. 
What's more, Blue Fox offers free equipment estimates and second opinions, 24/7 services for HVAC emergencies and financing options. 
Loyal customers 
The premier HVAC provider for several Greek houses at Purdue, Blue Fox has the manpower and equipment to serve the university's nearly 100 cooperative homes and fraternities and sororities 24 hours a day, seven days a week. 
Blue Fox's commercial projects include the Amelia Place Apartments, the Otterbein Community Center, Purdue Research Foundation, Adranos, Inc., Everbowl and various churches, among others. 
"A lot of our customers are repeat customers. They like working with us because of our customer service. And we stand by our word. If we make a mistake, we'll take care of it as quickly as we can." 
Giving back 
A frequent sponsor of community events, Blue Fox regularly gives back to the community by donating funds and HVAC services to area nonprofits and sponsoring various community programs and events, such as Leadership Lafayette, the Versiti Blood Drive and the Construction, Career and Education Expo with BAGL. 
Perhaps most notable is the business's so-called "non-profit of the month sponsorship." Each month, Blue Fox Heating & Cooling donates $1,000 donation to a local non-profit nominated by community members. Rolled out in January 2022, the monthly donation is something Biernacki said, Blue Fox will do forever.  
Past recipients of the monthly donation include: Indiana Veteran's Home, Riggs Community Health Center, Quilts for Kids, Food Finders Food Bank, Tippecanoe County Historical Society, Lafayette Urban Ministry among many others. To nominate a nonprofit, visit bluefoxhvac.com. 
Location and contact information 
Location: 1511 Kalberer Road in West Lafayette 
Phone: (765) 252-0051 
For more information, please visit bluefoxhvac.com.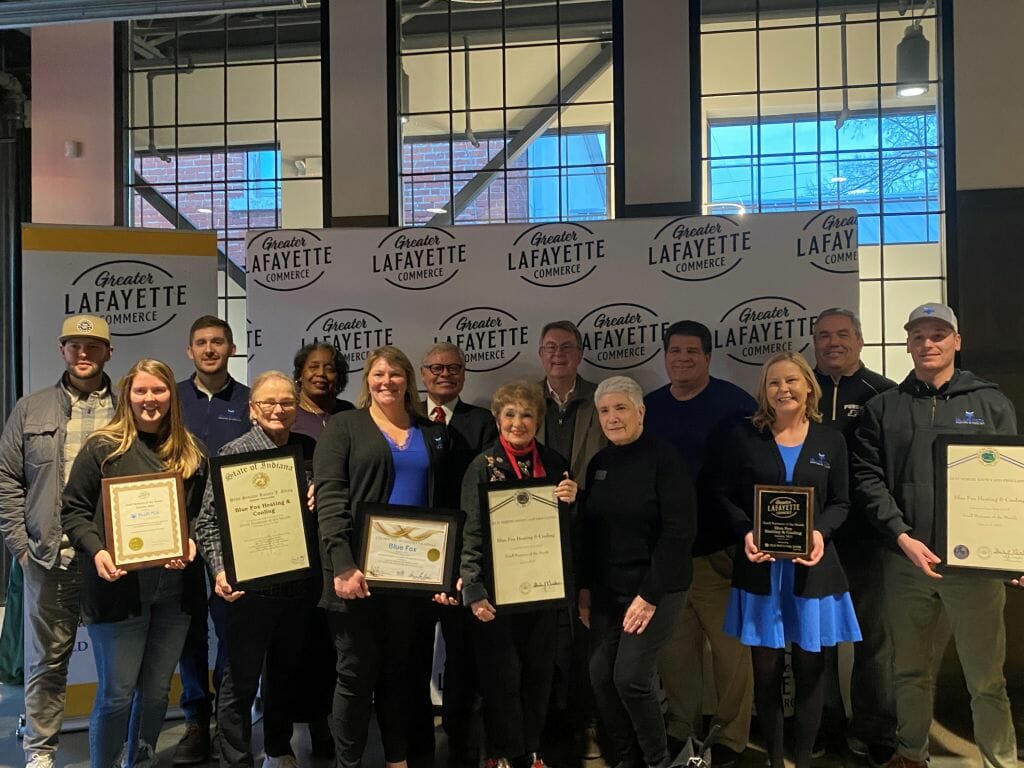 The Small Business of the Month Program (SBOM) is designed to recognize the dedication, innovation and entrepreneurial spirit displayed by Greater Lafayette Small Businesses. The goal of the monthly award is to highlight a small business and give them extra marketing exposure to aid in growing their business.
The program is sponsored by Old National.