GRAND OPENING: AIMEE NESS REALTY GROUP
Aimee Ness Realty Group celebrates grand opening with ribbon cutting ceremony
Aimee Ness Realty Group recently marked its grand opening at a Greater Lafayette Commerce-powered ribbon-cutting ceremony.
Located at 325 South Earl Avenue in Lafayette, Aimee Ness Realty Group helps its clients find their dream homes and promises constant communication during the home-buying process.
"I've felt so loved in this community. I've helped so many people in so many different circumstances over their years buying their first home, going through some emotional life changes," said Aimee Ness, owner of Aimess Ness Realty Group. "To watch our community grow even more – with our chamber, with the businesses that are in our area and all the people that are part of this community making it so much better. So, I'm honored to be a part of it, and I'm so excited about our office space.
With extensive knowledge and commitment to providing only the best and most timely information to its clients, the Lafayette-based realty firm is your go-to source for real estate industry insight and advice.
"It is a beautiful place, and I wish you great, great luck and lots of folks coming in and out," said Indiana State Representative, Sheila Klinker.
The 1,900 square-foot office will accommodate the realty firm's future growth.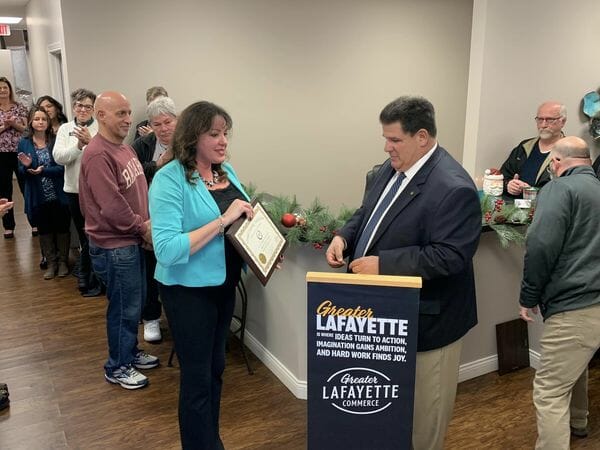 "Realtors play a very important role in how the community grows," said Tony Roswarski. "It's nice to be here with you to celebrate your growth and your accomplishments. We know that you give back in a lot of ways. You get involved; you do those things that just make you not only a wonderful corporate citizen, but just a wonderful person."
Added Bob Schafstall, Vice President of Chamber Operations for Greater Lafayette Commerce: "Congratulations on your grand opening. We're excited. Thank you for your involvement in everything you do for Greater Lafayette Commerce and our community. We wish you nothing but the best of success."
For more information, please visit aimeeness.com.
Milestone events include ground breakings, grand openings and anniversary celebrations of 5 years or more. We typically hold Milestone events on Tuesdays and Thursdays each month at 10:30 am and 1:30 pm.