GRAND RE-OPENING: WILLOWSTONE FAMILY SERVICES
Willowstone celebrates newly expanded space with ribbon cutting ceremony, open house
The nonprofit organization provides outpatient mental health counseling, child development support, parenting education groups, teen drug prevention groups and more. Some of their programs include "Healthy Families" and "Baby Talk."
Based in Lafayette, Willowstone has been providing services to residents of Tippecanoe and surrounding counties since 1964.
"Our kids as well as adults have fallen behind in many instances, and this is a wonderful place to catch up and work with the family. We look forward to your future, and we appreciate what you do," said Indiana State Representative Sheila Klinker.
Willowstone's dedication to in-person service and human connection was the motivation and deciding factor for more room, explained Jenni Murtaugh, Willowstone's executive director.
The bright, wide open, flexible space, will not only serve Willowstone's immediate needs of more square footage, but it will also open the possibilities for the future, for innovation and collaboration, according to Murtaugh.
The expansion enables the entire Willowstone team to be together under one roof, something she believes will enhance the organization's culture and, in turn, performance.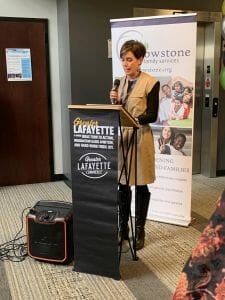 "Moving forward, we're a stronger team every day. Willowstone staff members willingly pour their heart and soul into providing the highest quality care to strengthen individuals and families within these services, and that's no small feat in the world of a pandemic," Murtaugh said.
Yet, she noted in just the first three quarters of 2022 alone, her team has served 2,353 individuals with more than 5,000 hours of direct service to prevent difficulties from growing into crises. And the fourth quarter is projected to be even stronger.
Located at 615 North 18th Street, Willowstone is based in the Howarth Center. The building is shared with NAMI West Central Indiana, the Senior Community Service Employment Program and the Excel Center.
Rosie Gonzalez, the nonprofit's president of the board of directors, indicated that there is still more to be done.
"Willowstone looks forward to further developing this space by adding equipment to enhance its service to our organization, neighbors here at Howarth Center and community members who really need us," remarked Rosie Gonzalez, president of Willowstone's board of directors.
Indiana State Representative Chris Campbell emphasized how important Willowstone is to the community.
"You guys do such wonderful work," she said, "And it's so important to the families and children in our area."
Bob Schaftstall, Vice President of Chamber Operations at Greater Lafayette Commerce, thanked Willowstone for strengthening individuals and families in Greater Lafayette.
"You are truly an asset," he said.
Concluded Tony Roswarski, Mayor of the City of Lafayette: "We need people willing to engage on a very human level, make that connection and work with organizations like this that really get to the heart of people to help them along that journey. On behalf of the City of Lafayette, thank you for what you've done."
Additional details may be found at willowstone.org.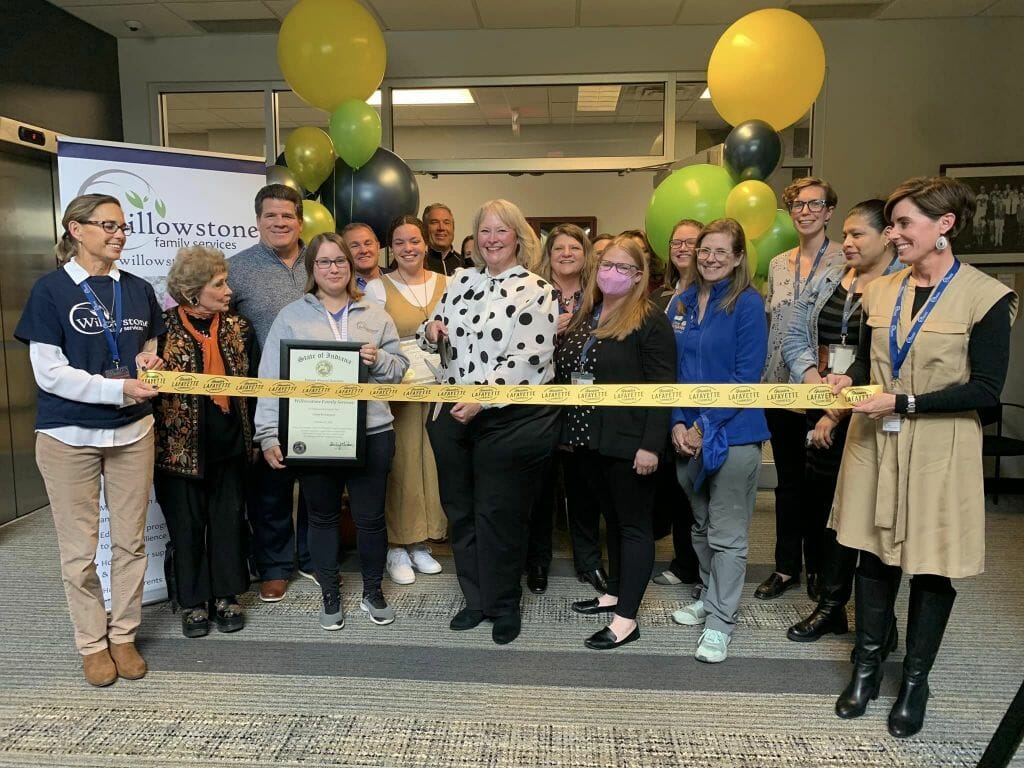 Milestone events include ground breakings, grand openings and anniversary celebrations of 5 years or more. We typically hold Milestone events on Tuesdays and Thursdays each month at 10:30 am and 1:30 pm.