OCTOBER 2022 SMALL BUSINESS OF THE MONTH: INSTANT COPY
Instant Copy recognized for excellent customer service, contributions to community 
One of downtown Lafayette's oldest businesses was named October Small Business of the Month by Greater Lafayette Commerce. 
Instant Copy, a locally owned, one-stop print shop, won the monthly award for its business achievements and valuable contributions to the community.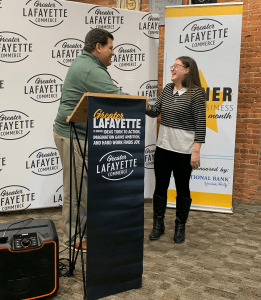 Each month, the distinction is given to a Greater Lafayette small business with 50 or fewer employees. The winning business excels in more areas than one – pride in their business and top-notch customer service, to name a few.  
"Greater Lafayette Commerce is committed to empowering entrepreneurs and small business owners. Our Small Business of the Month program is a way to help them gain extra marketing exposure," said Scott Walker, president and CEO of Greater Lafayette Commerce. "When our small businesses succeed, our community succeeds. Congratulations to Instant Copy for this well-deserved honor." 
City of Lafayette Mayor, Tony Roswarski added: "Small businesses reflect the local landscape creating the unique ambiance and charm throughout Greater Lafayette. The City of Lafayette would like to send our sincere congratulations and best wishes to all the employees at Instant Copy on this wonderful achievement." 
Exceptional customer service 
Over its 36 years in business, Instant Copy has grown a strong reputation for excellence with its customers. Its personalized approach to the print industry is what sets it apart from its competition.  
"Our customer service is our shining star here because we will always go out of our way to make sure that our customers are happy," Toni Edmonson said, noting that's typically not the case at big box retailers. Edmonson manages a staff of seven at the Lafayette-based store.  
"You're not going to get someone to sit down with you at a big box store and make sure that your files look correctly when they print," she explained. "We want you to be satisfied with your project – whether we designed it, or you did." 
Established in 1986, Instant Copy merged with Lafayette Copier and Eco Shred in late 2020. It is currently owned by TJ and Dawn O'Bryan.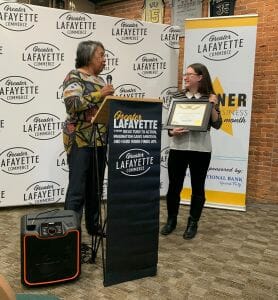 The shop offers print, graphic design and bindery services. Customers can also shred documents in the store, which is located at 701 Main Street in Lafayette. 
Three graphic artists are available to assist clients with any design needs they have, including logos, business cards, brochures, posters and more. 
Edmonson encourages customers to take advantage of the in-house experts for their next project. 
"Instead of doing the design yourself and having us fix it or redo it after the fact, it will save you some stress and struggle if you come down and have a meeting with us about what you're looking to design," she said. 
Customers 
Instant Copy, Edmonson said, loves its customers, which include Unity and Franciscan hospitals, Bauer Family Resources, Hartford House, Food Finders and St. Boniface, notably. 
In addition to businesses, Instant Copy works with regular customers, printing shipping labels, invitations, cards and more. Laminating, cutting and folding services are also offered. 
"We really try to branch out and work with a little bit of everybody. Being that Instant Copy has been in business for so long, generally at one point or another, people have printed something with us," Edmonson chuckled. 
Community investment 
When it comes to giving back to the community, Instant Copy stands out, often donating the printing of flyers for missing persons and lost pets.  
"If there's a customer in a hard spot, we do try to help out our community in that way with printing services," Edmonson explained. 
Instant Copy also prints materials at no charge for various nonprofits, community events and causes including: St. Boniface German Fest, Hunger Hike, Celery Bog, Wildcat Creek Wildlife Center and Fowler Movie Theatre, among others. 
"It's amazing the amount of posters that we do here," said Edmonson. 
Location and contact information
Location:  701 Main Street, Lafayette, IN
Phone: (765) 742.8656
For more information, please visit instantcopyprinting.com.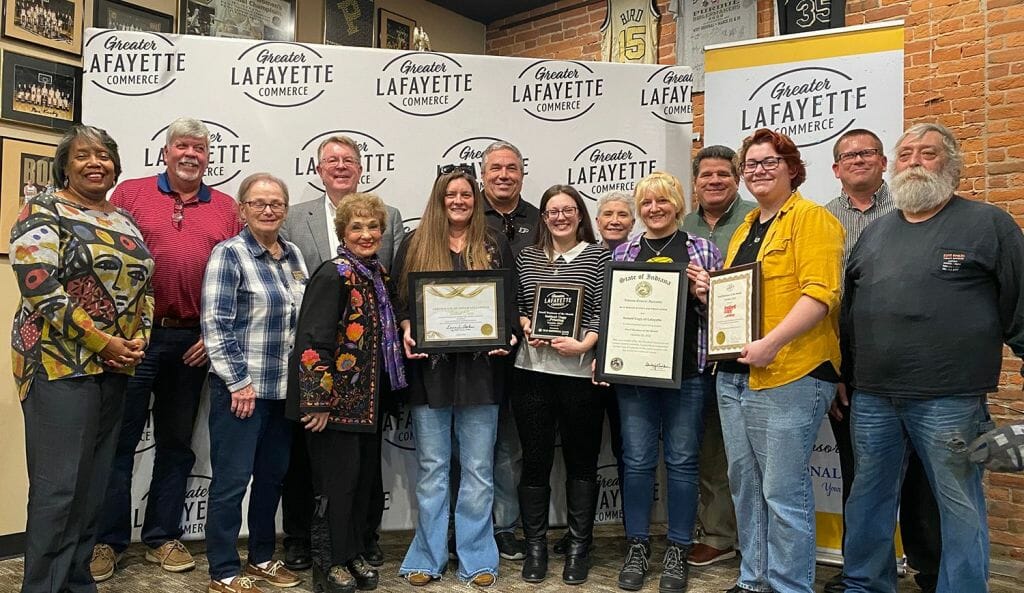 Small Business of the Month Award Ceremony
The Small Business of the Month Award Ceremony is typically held the last Wednesday of every month.
The Small Business of the Month Program (SBOM) is designed to recognize the dedication, innovation and entrepreneurial spirit displayed by Greater Lafayette Small Businesses. The goal of the monthly award is to highlight a small business and give them extra marketing exposure to aid in growing their business.
The program is sponsored by Old National.