20TH YEAR ANNIVERSARY: GUARDIAN ANGEL HOSPICE
Guardian Angel Hospice marks 20 years of service 
Guardian Angel Hospice recently marked its 20th year anniversary with a ribbon-cutting ceremony. 
Locally owned and operated, Guardian Angel Hospice has been providing compassionate end-of-life care and support to individuals in North Central Indiana since 2002. 
Leslie Bever, CEO of Guardian Angel Hospice, reflected on the speech she gave at her organization's grand opening, 20 years ago. 
"I spoke about how hospice is really a gift. And how the end of life should be a celebration – a time that we celebrate our loved one's life and that we should lift them up in celebration the same way we celebrate the birth of a new child," Bever remarked. "We have the beginning of life, and we have the end of life. And the end of life can be sad. We're losing somebody that we love, and we can't imagine going on without them. Yet, every day, those people that we have lost are still in our hearts. Their love never leaves. It's always here."  
Hospice, Bever noted, is a gift to seriously ill patients and their families.  
"We can ensure that their symptoms are managed so they can celebrate and enjoy every single day, every single hour, every single minute that they have left with their families. Hospice is truly a ministry," she added.  
Indiana State Representative Sheila Klinker thanked Bever for her service to the community.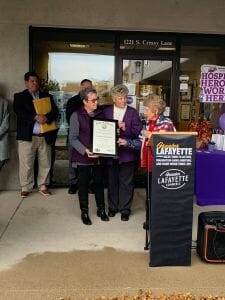 "We know it's not easy. I know what many of your folks do for others and those that are very ill. So, thank you for what you do," said Indiana State Representative, Sheila Klinker. "I really appreciate the fact that you have been here for 20 years, because I remember when you opened." 
Tony Roswarski, Mayor of the City of Lafayette congratulated Guardian Angel Hospice on its two decades in business.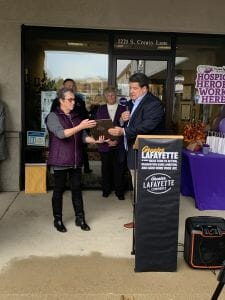 "This really is a special occasion," he said. "From a business standpoint, making 20 years in business – any kind of business – is difficult. You have to put your heart and soul into it every day and over a period of time, continue to improve and continue to grow. Just for that fact alone, congratulations. But then on a much more human, personal side, thank you for what you and your staff do. Like you said, hospice is a ministry; it's a calling."  
Based at 513 W. Lincoln Road in Kokomo, Guardian Angel Hospice serves Kokomo, Logansport, Lafayette, Lebanon, Frankfort, Carmel, Indianapolis and surrounding areas.  
For more information, please visit guardianangelhospice.com.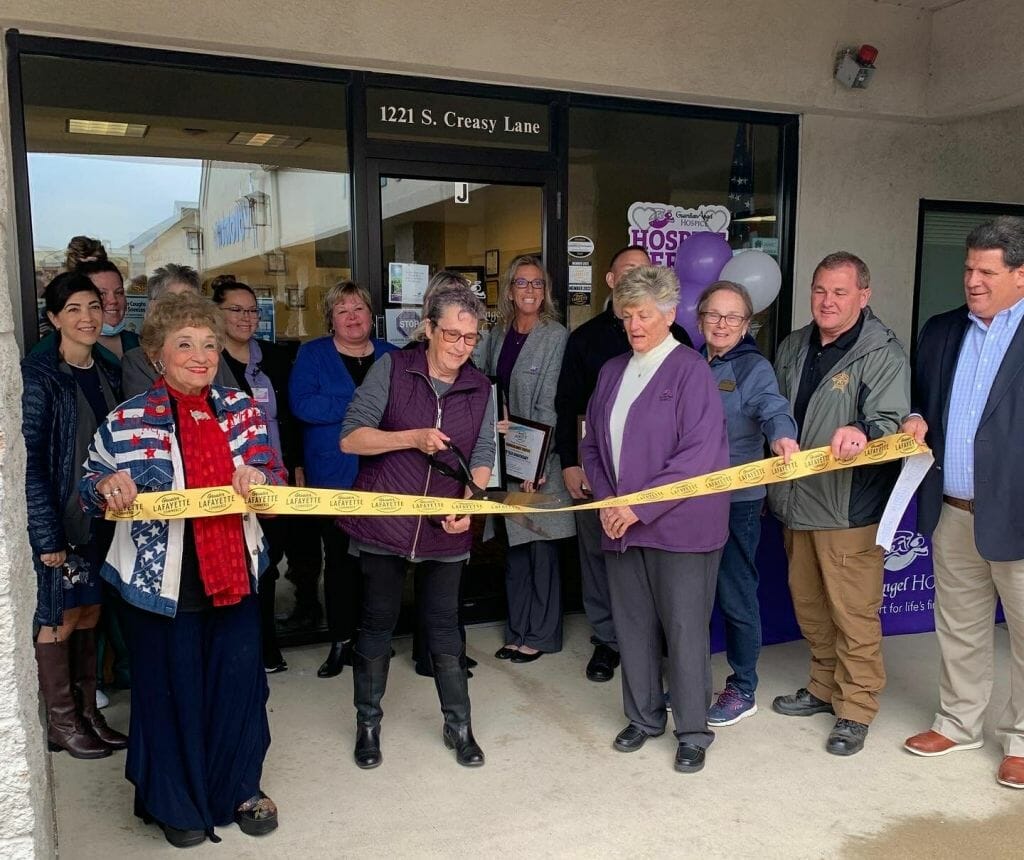 Milestone events include ground breakings, grand openings and anniversary celebrations of 5 years or more. We typically hold Milestone events on Tuesdays and Thursdays each month at 10:30 am and 1:30 pm.