JULY 2022 SMALL BUSINESS OF THE MONTH: GLGRAPHIX
A memorable business legacy enters new hands 
Lafayette-based GLGraphix is enhancing the greatness of Greater Lafayette.
Owned by husband-and-wife team, Mark and Sandy Sweval, GLGraphics is a large-format graphics business that designs displays, banners and images that grab an audience's attention.
Their team of experts specializes in vehicle wraps and trade show graphics. Whatever their customers' needs, they get it done with lightning-fast turnaround times.
Mark and Sandy started the business in 2011. Originally called Speed Pro Imaging, the couple rebranded to GLGraphix in 2019.
"I've always enjoyed the sales process. Going out and promoting the company. When you're working for yourself, you're a lot more motivated. I love the flexibility. I love the freedom. I loved being able to chart my own destiny being an owner of a small business," Mark said.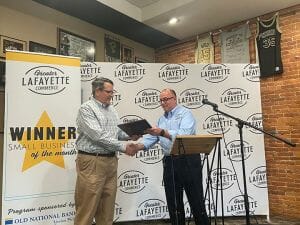 Indeed, his sales prowess is palpable. GLGraphix boasts an impressive customer list including Purdue, Purdue Research Foundation, Purdue Federal Credit Union, Subaru, Tate and Lyle, Arconic and more.
"It's all about response time," Mark noted of his success. "It's about being available and following up and doing what you say you're going to do."
The business's success can also be attributed to Mark's approach to business. He ensures that no single GLGraphix customer represents more than 6 percent of the print shop's total annual revenue – a strategy that served him well when the pandemic hit.
The pandemic

The Covid-19 pandemic prevented large indoor gatherings such as conventions, where GLGraphix generates a bulk of its business.
Overnight, 40 percent of GLGraphix's marketplace vanished. But as an essential business, they remained open. Mark wouldn't let any of his employees go without a salary.
He quickly shifted gears to make up for the revenue.
"I started really burning up the phone lines and calling people." Mark explained. "I found a way to replace the lost business."
And his way was creative. GLGraphix designed thousands of Covid-related graphics, such as floor decals and signs for Purdue dorms and area hospitals. As such, he was able to hold the company flat. While GLGraphix didn't grow, it didn't decline either. In fact, they came out of the pandemic stronger than before.
"That 40 percent of the market is suddenly back and raging," Mark said. "All of the new customers we acquired are still there. We're up 50 percent year-over-year from last year."
Giving Back 
Heavily engaged in the community, GLGraphix supports Habitat for Humanity and the YMCA. They also produce signage at a discounted price or at no cost for various not-for-profits in the Greater Lafayette area.
"If you need something, and it's not in your budget," Mark says to non-profits, "we'll just donate it. We're always donating stuff for special events and things like that."
New ownership 
In July of this year, the Swevals sold GLGraphix.
"Sandy and I were saying, 'Boy, we don't want to work this hard anymore,'" Mark chuckled. "That was one of the reasons that we decided it was a good time. It was time to pass it on to the younger generation."
Nathan Erber, who founded Mark VII Graphics is taking the helm. His Brookston-based graphics company was established in 2019. He's now adopting the GLGraphix name.
"I'm happy to announce that Mark VII Graphics has completed its purchase of Greater Lafayette Graphics (GL Graphix)!" Erber said. "This has been something I've been working on since January, and I'd like to thank everyone who helped with the process along the way. I'm pretty excited for this next step and look forward to continuing to provide quality graphics solutions to the Lafayette area."
Transitioning the business to new ownership is a bittersweet moment for the Swevals. After years of operating GLGraphix, Mark is still passionate about getting new business and seeing smiles on his customers' faces.
"That's just as energizing today as it was when I first started. It is a little bit bittersweet, but I can go out with my head held high. I know we've done something very unique in this town. I know we're well-respected. I think I've passed it on to someone who can continue the legacy," Mark explained.
Location and contact information
Location:  311 Sagamore Pkwy N. Ste 6, Lafayette, IN  47904
Phone: (765) 446.8600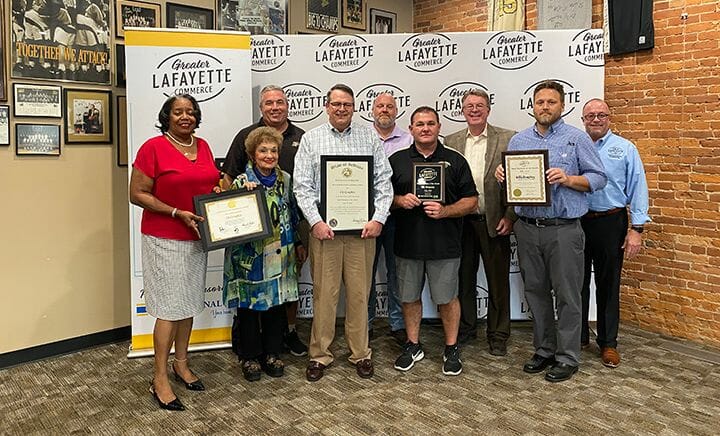 The Small Business of the Month Program (SBOM) is designed to recognize the dedication, innovation and entrepreneurial spirit displayed by Greater Lafayette Small Businesses. The goal of the monthly award is to highlight a small business and give them extra marketing exposure to aid in growing their business.
The program is sponsored by Old National.