MAY 2022 SMALL BUSINESS OF THE MONTH: SPARKLETONE DRY CLEANERS
The gift of gab: Sparkletone Dry Cleaners lauded for excellent customer service 
Jeanne Dudley's people skills helped put Sparkletone Dry Cleaners on the map as the go-to place in town for dry cleaning. Indeed, she'd be the first person to tell you that she loves her customers – talking to them and learning about their lives.  
Yet, she admits that her very favorite customer was not her favorite customer at first. 
One day, this particular customer marched into her shop, fuming about the way his shirt collars had been pressed. Jeanne then calmly asked him to show her exactly how he wanted his collars to be ironed so the problem wouldn't happen again.  
"My father-in-law always told me, 'Walk out front with a smile, and the customer is always right,'" Jeanne explained. 
When Jeanne's difficult customer returned to the shop, she crouched up from behind the counter with a white handkerchief tied around a pencil and playfully waved it in front of him.  
"He started laughing his head off. After that, we just had the best relationship," Jeanne fondly recalled.  
Having a sense of humor and patience are Jeanne's key philosophies in delivering excellent customer service – values she's passed down to her two daughters, Robin Kochert and Kristin Dudley. The sisters, third-generation Dudley Sparkletone Dry Cleaners owners, now operate the shop.  
Kristin and Robin took over after Jeanne retired from the business to care for her late husband, Scott. He passed away last year, leaving behind a wonderful legacy and a thriving business.  
Sparkletone Dry Cleaners offers a complete in-house dry-cleaning and shirt laundry service. Their two-day services return clothes clean, pressed and ready to wear.  
"We keep it simple. Customer service has always been our number one priority. We greet our customers with a friendly smile, listen to their needs and provide an affordable and timely service. We thank our loyal customers for our continued success over the past 66 years," said Robin.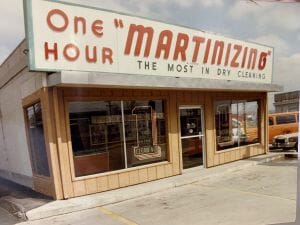 Founded in 1956 by Robert Dudley, Scott's father, Sparkletone Dry Cleaners is a family-owned business serving the Greater Lafayette area. Located at 238 East State Street in West Lafayette, the shop previously served as a tiny old Kroger grocery store.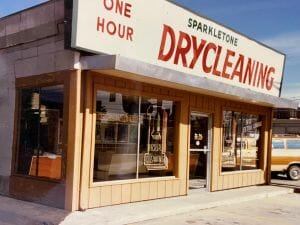 Jeanne and her husband took over the business from Robert in 1983. Originally called One Hour "Martinizing" the family dropped the franchise and changed the name to Sparkletone Dry Cleaners in 1985. 
For the love of the customer
The customer is always right. Sure, its cliché, but it's cliché for good reason.  
"If you don't have customers, you don't have a business," Jeanne stated, adding, "I've always liked people. I always have, so it's easy for me."  
In fact, Scott used to tease Jeanne for her love of customers. She knew when her customers got married. She knew the names of all her customers' children and grandchildren. She knew where they lived. But, her husband joked that she never remembered to get their phone numbers. 
"Because you talk and talk and talk!" Robin laughed. "Sometimes talking so much, she forgets to get the payment!" 
It's the conversation, her special gift of gab, though, that brings the customers back, Jeanne pointed out with a wink.  
"It does," she grinned. "It's like being a beautician. They'll tell you all their problems or even share their family photos." 
Jeanne has a gentleness that is evident in the way she holds herself and engages with others. Her practical approach to running a business and taking care of her customers, like Sparkletone Dry Cleaners itself, runs in the family.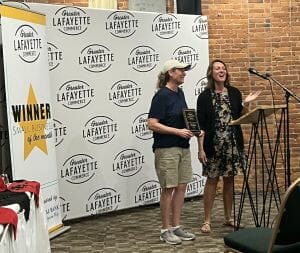 Kristin manages the day-to-day operations, and Robin inherited her mother's gift of gab in the customer service arena. 
"I have taken it over," Robin laughed, acknowledging her affinity for customers. 
And according to Jeanne, Robin has done a great job filling those shoes.  
"I have run into customers, and they have made comments about how good she is," Jeanne said proudly. "How much they enjoy talking to her." 
Robin credits her mother for her people skills and attributes her business's success to keeping things simple.  
"We make our customers number one. We listen to their needs. We provide affordable, timely service. We're usually the quickest in town," Robin explained.
The pandemic
Like many businesses, the dry-cleaning industry was not immune to the economic toll caused by the Covid-19 pandemic. During its peak, events were canceled, and many people worked from home. Due to tight restrictions, dry cleaning became less necessary.  
But Greater Lafayette stepped up to keep Sparkletone Dry Cleaners in business.  
Customers brought in their bedspreads, curtains and memorabilia, such as old letterman jackets, for dry cleaning. 
"Our customers would be like, 'I don't need my suits or shirts done, but can you clean this for me.' So that was so sweet of them," Robin said. "And we had customers call just to check in on us. It was really nice." 
Carrying on
Robin and Kristin want to carry on the family business. And it's their hope that future generations do as well. 
"As it started in 1957, through my grandparents, my parents – we just want to continue that," said Robin. 
And they're going to continue to run business the way it's always been done.  
For instance, you won't find a company website or social media accounts. Don't expect that to change anytime soon. They rely on word of mouth, and it seems to be doing the trick.  
"That is it. We do things the old-fashioned way." Robin smiled. "Kris and I grew up doing it this way, and it works." 
Location and contact information
Location:  238 East State Street, West Lafayette
Phone: (765) 743-2007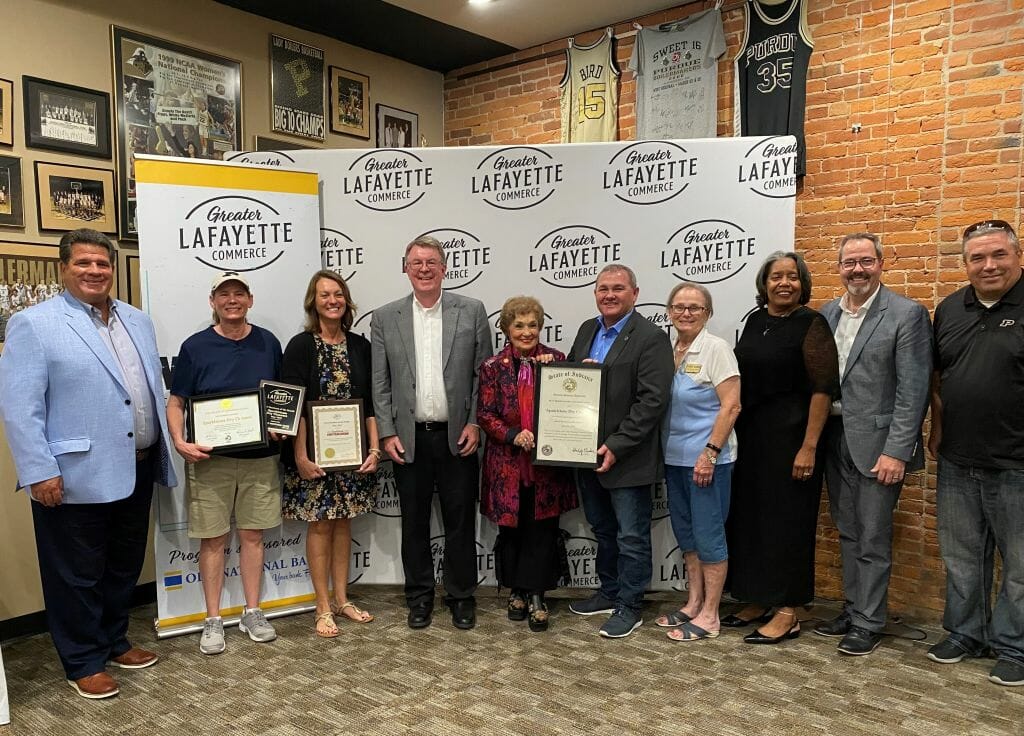 Small Business of the Month Award Ceremony
The Small Business of the Month Award Ceremony is typically held the last Wednesday of every month.
The Small Business of the Month Program (SBOM) is designed to recognize the dedication, innovation and entrepreneurial spirit displayed by Greater Lafayette Small Businesses. The goal of the monthly award is to highlight a small business and give them extra marketing exposure to aid in growing their business.
The program is sponsored by Old National.