MARCH 2022 SMALL BUSINESS OF THE MONTH: GREAT HARVEST BREAD CO.
Great Harvest Bread Co. fortifies the significance of bread, community
Strolling into Great Harvest Bread Co. in Lafayette provides one with the experience that husband-and-wife founders, Jerry and Janet Lecy, had hoped to create nearly 17 years ago.
Seated in the historic Kossuth District of Lafayette, the delectable smell of freshly baked bread and pastries floats through the air of Great Harvest Bread.
The rustic welcoming bakery beckons you to breathe in the aroma of freshly brewed coffee and baked treats and sit, if only for a little while.
A close-knit and prosperous community
Customers wait patiently in line for their breakfasts and coffees. One regular is State Rep. Sheila Klinker (D-IN 27th District). Rep. Klinker comes in at least two or three times a week – sometimes more.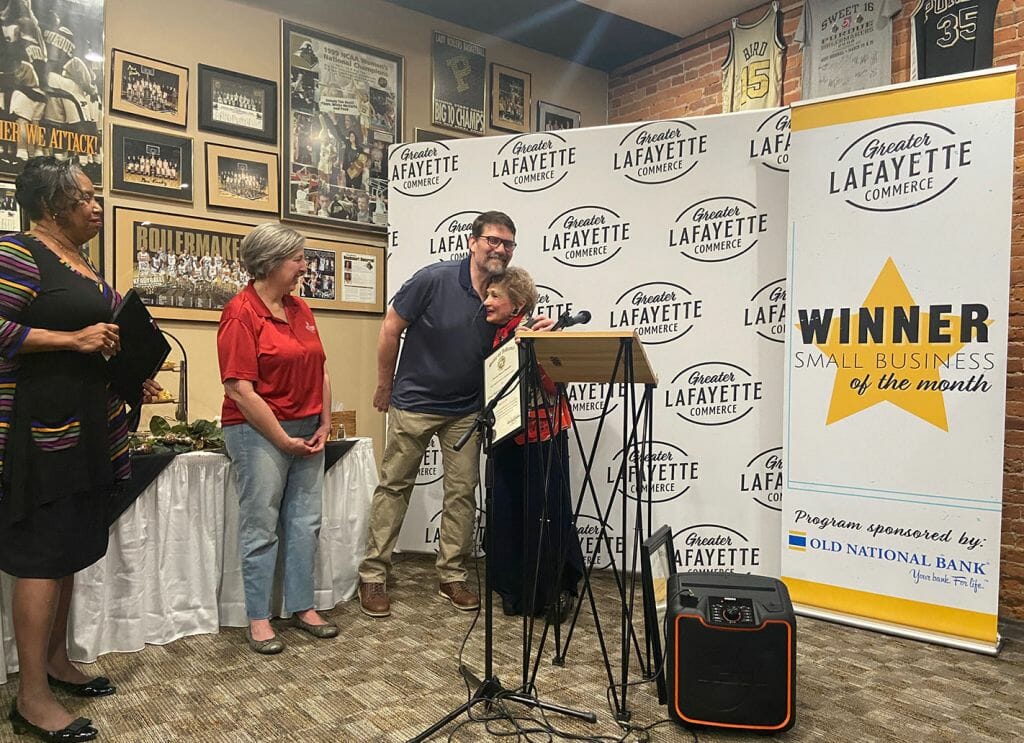 "I stop by before I go to the statehouse. I just enjoy the people who work here and Jerry. Plus, the coffee is great," she winked.
Rep. Klinker is a powerful presence in the business community. Having quality businesses such as Great Harvest Bread in the Greater Lafayette Community is a source of pride for her and vital to the success of a prosperous community.
"It's extremely important, and that's why I leave the legislature and come home to do Small Business of the Month. Certainly, this is a very welcoming place here at Great Harvest. And I enjoy coming here and getting my coffee," she smiles before quipping, "And a great piece of bread."
Another pleased patron, Judy Rechberger, a retired Purdue composition professor, orders coffee from Great Harvest Bread every morning.
"I know how to make coffee, but I'm really here for the people. It's like coming to Cheers; everybody knows your name," she said, referencing the 80s cult television classic about a close-knit group of bar frequenters. "It's wonderful."
A simple mission
The years-long dream of owning a family business came to fruition in 2007 when Jerry and Janet Lecy took over ownership of Great Harvest Bread Co. as franchisees.
Their mission is one that resonates with anyone who cares about cool jobs, giving back and out-of-this-world baked goods: be flexible, create a fun environment for employees, give generously to the community and well, bake awesome bread. If that sounds like something up your alley, Great Harvest is always looking for good people to fit their "Be loose and have fun" environment.
Their ingredients are simple.
Jerry and Janet use only honey in their bread rather than high-fructose corn syrup, which many competitors use. A margarine butter blend is another item you won't find on their ingredients list. They also make their own flour by grinding wheat berries in their mill every day.
"We are about the bread. We are about quality ingredients," Jerry said. "The honey whole wheat, which is our signature bread, has five ingredients: water, salt, yeast, honey and flour. You can pronounce everything."
And the sixth lesser-known ingredient, he pointed out, is time – about five hours of time per loaf, to be exact. For quality bread that has no after-taste and pure, quality ingredients, it's not a quick process, Jerry explained
Great Harvest Bread doesn't shy away from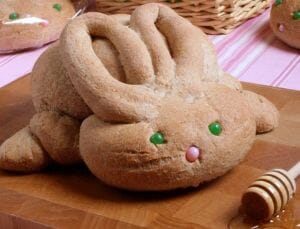 having fun with special holidays. In fact, they will soon be selling their "Honey Bunny," which is their signature whole wheat bread in the shape of, you guessed it – a bunny.
Community involvement
It should go without saying that Great Harvest's bread is made fresh daily. And it never sits on a shelf for more than 36 hours. Don't worry about any food going to waste, however. Leftover bread is then distributed to charitable organizations within the Greater Lafayette Community, including Lafayette Urban Ministry, Trinity Mission, a local women's shelter and various other organizations.
A network of friends and colleagues
Though pillars in the Greater Lafayette Community now, the Lecy's story looks quite different today than it did 17 years ago. Residing in Orlando at the time, the couple questioned what it was they wanted to do with the rest of their lives. Among their considerations was beginning a small, family business. The "aha moment" occurred while Janet was visiting a friend. They just so happened to wander into a Harvest Bread Co. franchise. Janet called Jerry immediately and said, "I think I found the perfect business for us. It fits us so well."
For Jerry, taking the dive into entrepreneurship was exhilarating.
"I try to avoid fear. It definitely took us out of our comfort zone – my wife more than myself. Even the first year, she was like, 'Do you miss our old life?' And I'm like, 'No, I don't even think about it. This is happening. This is good.'"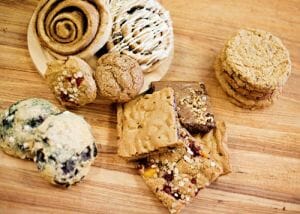 Since 2007, they have grown the business significantly. To be precise, the Lecy's have tripled their sales after taking the helm from the previous Great Harvest Bread owners. The Lecy's sell on average 150 to 200 loaves of bread every day. That's in addition to the various coffee, sandwich and dessert products they offer.
Jerry enjoys focusing on the community, delivering quality products and, of course, maintaining both.
And, as someone who cares immensely for the Greater Lafayette community, he encourages more entrepreneurs – even bakers – to join the business community. Both in the customer base as well as the business community, he said, people are willing to do what it takes to help one another.
"It's a nice thing to know that we've got each other's backs in this community," he said. "This is our community, and we're going to do what's best for our community."

Location and contact information
Location: 1500 Kossuth Street, Lafayette, IN 47904
Website: greatharvestlafayette.com
Phone: (765) 742-7323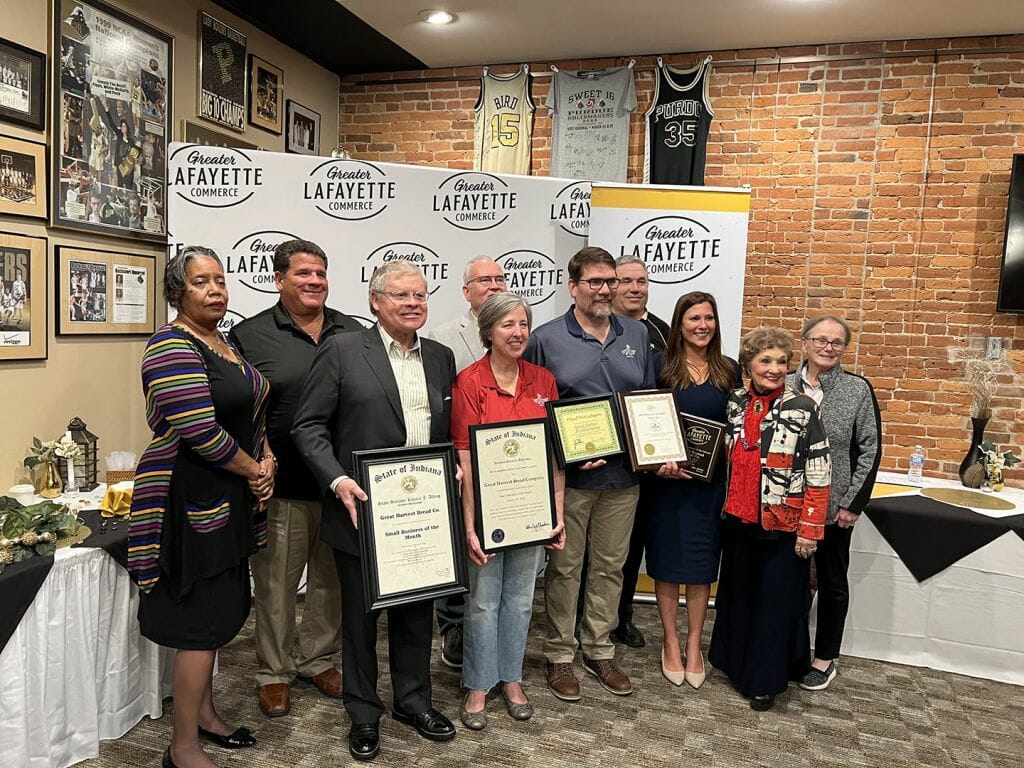 Small Business of the Month Award Ceremony
The Small Business of the Month Award Ceremony is typically held the last Wednesday of every month.
The Small Business of the Month Program (SBOM) is designed to recognize the dedication, innovation and entrepreneurial spirit displayed by Greater Lafayette Small Businesses. The goal of the monthly award is to highlight a small business and give them extra marketing exposure to aid in growing their business.
The program is sponsored by Old National.