WORKING TOGETHER TO CREATE AMAZING CUSTOMER EXPERIENCES
My brothers and I have owned and operated downtown businesses for nearly two decades. We face the same struggles as every other downtown business owner—we need customers. The way we see it is that we need to raise awareness of our business and bring more foot traffic to the downtown area—more people means more sales. But the question that plagues all downtown store owners is the same, "How do we get consumers to come downtown?" We decided that collaborating with other business owners was the best way. We thought that if we worked with our neighbors, we could create experiences that would draw consumers to us. And we were right!
By actively becoming a part of our business community and working together with others (facing the same problem) we tailored experiences that were not only appealing to the public but increased foot traffic and sales in our businesses.
Growing your business through collaboration will help you grow robust networks, as new relationships are established and strengthened. Collaborative efforts also provide opportunities for professional development as new skills are learned from shared experiences. An added perk is that the costs of promotions and events are spread evenly among other business owners—no reason to shoulder the cost alone. Finally, when you collaborate with other business owners, you are sending a soothing message to consumers regarding your credibility and ingenuity while also fostering a sense of community among local business owners.
Here are a just few of the successful collaborative ideas we've done in the past.
Cross Promotion/Advertising
Early on, we decided we would do some cross-promotions with local retailers. We had connected with several of the local merchants and asked if we could exchange some of our promotional materials (coupons and flyers) for some of theirs. We used their materials as box toppers for our pizza boxes. Every customer who ordered from us received promotions for surrounding business owners. In return, the other businesses gave out our promotions to their customers.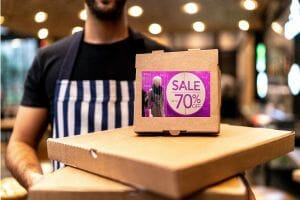 We worked with the local movie rental store to distribute coupons with every movie purchase (who doesn't love dinner and movie?). Additionally, we sent out double-sided flyers every week in the newspaper. One side had a promotion and the other side our menu. We decided that we would split the promotion with other businesses. For instance, the community theater promoted their productions on the backside of our flyer for an entire year.
Popup Events
We further collaborated with local retailers to bring popup style events to the downtown. When it was popular, we held a Halo tournament (it's a video game). We teamed up with an appliance store, which provided 4 big screen TVs, and the local DeMolay chapter to judge the event. We provided the space, pizza, and drinks. The top three places were awarded prizes which consisted of merchandise from other retailers. It was a huge success. Over the years we've collaborated with jewelers, eye doctors, dance studios, schools, and many other store owners to provide novel events such as Halloween costume contests, scavenger hunts, and other contests and games to bring consumers to the downtown and our stores.
If you want to experience shared success, learn to work together and create amazing experiences that bring customers back time and again. Approach other business owners and get the conversation started about how you can collaborate, today.
Greater Lafayette Commerce is committed to being a supportive partner with business members. If you want to learn more about the business success platform and how it can help your business, contact me.
About the Author
Mark Lowe is a serial entrepreneur, owning and operating multiple businesses.  He's earned an MBA in Experimental Social Psychology and an MS in Human Resources and Organizational Development from Indiana State University.  He is passionate about helping business owners navigate the many challenges they face daily.
How to Contact Mark
Email: mlowe@greaterlafayettecommerce.com